Visa and SentBe Partner to Showcase Visa Direct… First-of-its-Kind Partnership with a Korean Fintech
04/03/2023
Visa continues its support for domestic fintechs, welcoming SentBe as the third fintech to become Visa's principal member in Korea
SentBe becomes the first Korean fintech to be qualified for both prepaid issuing and Visa Direct businesses
After showcasing Visa Direct, the two companies plan to launch FX prepaid card, expanding offering digital payment services in and out of Korea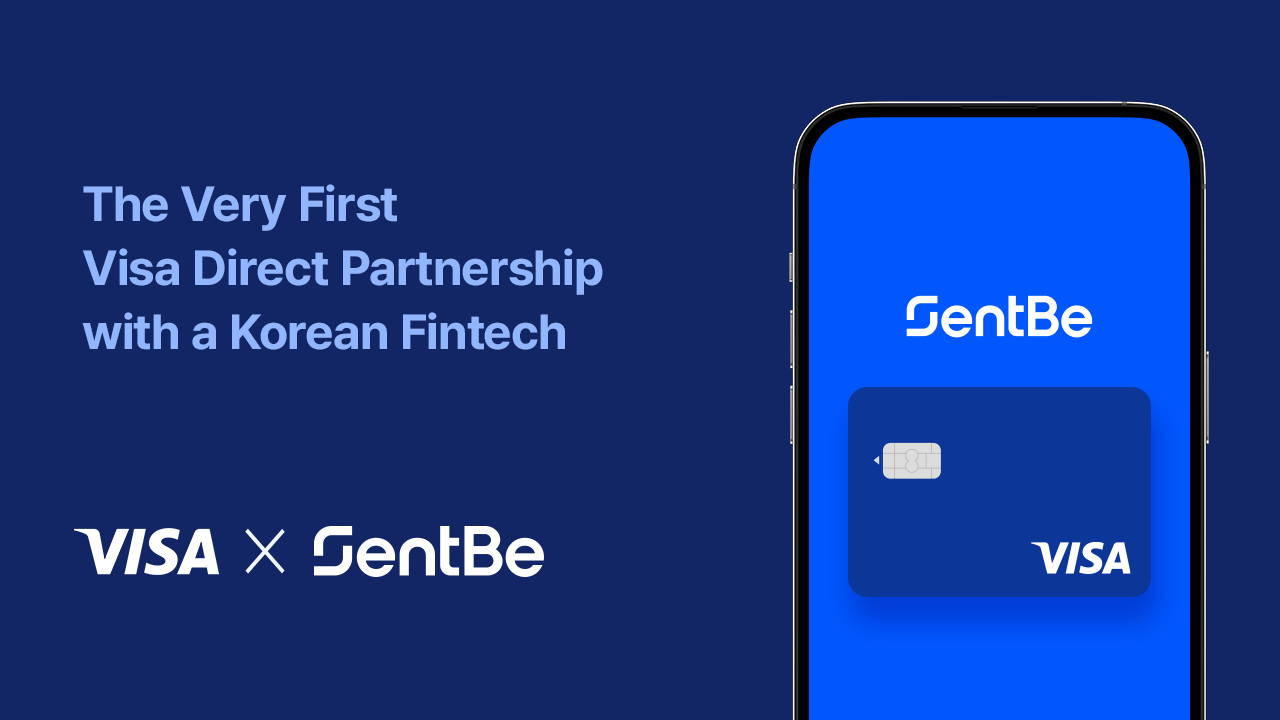 Visa, a trusted world leader in digital payment technology, announced that it partnered with FX total solutions provider SentBe to introduce 'Visa Direct,' a real-time overseas payment service, within this year. Visa selected SentBe as the third company to join its fintech support program, 'Fintech Fast Track,' in Korea, and plans to showcase various payment services together.

Since 2020, Visa has been partnering with domestic companies through the Fintech Fast Track program. The company has supported next-generation digital payment solutions firms in launching innovative services and has provided them access to Visa's networks and resources to help them gain global competitiveness. Three Korean fintech companies, including SentBe, have become Visa's principal member through the program so far.

Visa's partnership with SentBe is noteworthy in that SentBe will be the first in the local fintech industry to showcase Visa Direct. SentBe has been specializing in convenient, low commission, overseas remittance and payment services since its foundation in 2015, providing safe and innovative services for both individual and business customers. It is the only small-sum remittance agency that has an in-house Legal & Compliance team comprising Korean and overseas legal experts, and that owns a proprietary Automated FX Hedging System (AHS) for minimizing potential foreign exchange risks during remittance.

Through this partnership, SentBe will enable real-time overseas remittance with a low commission rate via Visa Direct, offering customers in Korea and abroad a new option to transfer money using Visa cards; customers will only need to know the recipient's Visa card number to use the service. After launching the service in Korea this year, SentBe plans on expanding the service countries to Singapore and more.

The two companies are also preparing to launch a multi-currency FX prepaid card. Geared with SentBe's competitive edge - low commission fee and competitive FX rates - the prepaid card will be available for use in all overseas Visa-affiliated merchants. It will also provide various benefits and perks offered by Visa brand. By partnering with Visa, SentBe has secured a competitive edge to expand its business beyond overseas remittance to the global payments field.

"Showcasing our innovative payment service - Visa Direct – with a domestic fintech marks a significant milestone," said Patrick Storey, Country Manager of Visa Korea, adding, "Visa will continue to support promising fintechs by providing access to Visa's extensive networks so that they can accelerate the commercialization of their products and services, and maximize their competitiveness through global market expansion."

"The partnership with Visa is a great accomplishment not only in the sense that it recognizes SentBe's specialties in global foreign exchange solutions, but also in that it adds momentum to SentBe's activities to grow its presence in the global overseas remittance and payment market," commented Seongouk Choi, CEO of SentBe. "Through our partnership with Visa, we plan to further advance our services so that customers worldwide can access and use SentBe more conveniently."

Meanwhile, Visa Direct is a simple and convenient real-time overseas remittance service that allows customers to transfer money through Visa's global payment network at a low fee regardless of card type, whether it is credit, debit, or prepaid, as long as the user knows the recipient's Visa card number. The service is available in over 190 countries and territories, and the number of transactions processed through Visa Direct reached 5.9 billion1 as of full year FY2022.
---
1 Excluding Russia
About Visa
Visa is a world leader in digital payments, facilitating transactions between consumers, merchants, financial institutions and government entities across more than 200 countries and territories. Our mission is to connect the world through the most innovative, convenient, reliable and secure payments network, enabling individuals, businesses and economies to thrive. We believe that economies that include everyone everywhere, uplift everyone everywhere and see access as foundational to the future of money movement. Learn more at Visa.com.

About SentBe
Established in 2015, SentBe (http://www.sentbe.com) is a global fintech company specializing in foreign exchange services with a mission of building borderless finance for more. With lower fees, faster transfer speeds, and simpler processes, SentBe is a national market leader in international money transfer, enabling individuals and businesses to send money over 50 countries. SentBe features diverse financial offerings including its C2C services, SentBe, as well as B2B with SentBiz, an international money transfer and payment service for businesses.

In addition to its business success in Korea, Singapore and Indonesia, SentBe plans to expand its business to Canada, Europe, and Australia. Based on its success in domestic and APAC markets, the company continues to solidify its position as a cross-border FX total solutions provider specializing in foreign exchange services. SentBe is the only company in the market that operates its own business impact team. The company is deeply committed to the UN Sustainable Development Goals (SDG) by aligning its business tactics to these goals to solve financial problems that alienate migrant workers and businesses by 2030.